Hours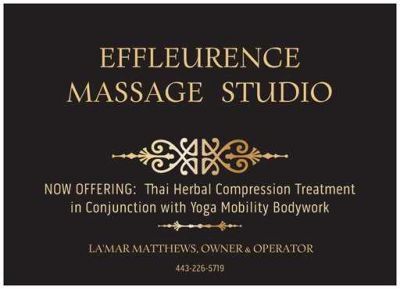 At Effleurence, we are committed to bringing you an environment where the highest levels of service to nurture the body, mind and soul. Using a color rich environment, calming lighting and acoustics, heated massage tables and a overall great massage.
Coming soon: A credit card will be required at the time of booking to guarantee your reservation. We hold this information as part of our cancelation policies and only make necessary charges to your account on the dates of your scheduled service.
CANCELATION POLICY FOR OUR VALUED GUESTS
We are grateful and value your business. Our request to you is to understand our scheduling process.
All services will require a credit card to guarantee a reservation so please have your credit card ready when booking. You will not be billed unless there is a cancelation or no show. Upon checkout, guests may choose their method of payment.
In the event that we do not receive the required notice for adjustments and cancelations the following fees will be applied to your card or alternatively billed out to you.
Notification given less than 24 hours prior to the appointment time will result in a flat rate charge of $30.00. It is understood that unanticipated events happen occasionally in everyone's life. In my desire to be effective and fair to all clients, the following policies are honored: In some rare instances, we are willing to allow late cancelations within a minimum of 2 to 5 hours. (This allows the opportunity for someone else to schedule an appointment). If you are unable to give 24 hours advance notice you will be charged a $30 late cancelation fee. This amount must be paid prior to your next scheduled appointment. Additionally, it also provides an opportunity for me to inform the therapist, so that he/she can make other plans during that time.

No-shows
Anyone who either forgets or consciously chooses to forgo their appointment for whatever reason will be considered a "no-show" and will be responsible for the full price of the missed appointment.

Late Arrivals
If you arrive late, your session may be shortened in order to accommodate others whose appointments follow yours. Depending upon how late you arrive, a determination will be made as to whether there is enough time remaining to start a treatment. Regardless of the length of the treatment actually given, you will be responsible for the full session. Out of respect and consideration to your therapist and other customers, please plan accordingly and be on time. A maximum of 10 minutes will be allowed for late starting appointments to receive full session time. It is our policy that 5 hour advanced notice be provided to reschedule an appointment. Your time is valuable and so is ours.
It is your obligation to remember and document your appointment reservation.
Cell Phones
Kindly turn your cell phones or pagers to silent mode upon arrival and remember to speak in a soft voice. Please inform your therapist should you need to make a call so that you may do so without disturbing other guests. Cell phone use may affect the length of your services.
PRICES AND SERVICES
Prices and services are subject to change without notice. We will do our best to keep our clients up to date on any changes that may occur but encourage all clients to inquire about pricing and available services when booking your appointment.
Gift Certificate Policy
Gift certificates are available in any amount. Unfortunately, we are unable to process any returns on reimburse any payment transactions on gift certificates even if lost, misplaced or stolen. Gift certificates cannot be redeemed as cash. Gift certificates must be mentioned when making your appointment.
Packages or Programs
We are unable to process any returns or reimburse any payment transaction on any packages or programs that are purchased. We will however, exchange them for other services.
Gratuity
Gratuity is not included in the price of services or packages, customary tiping runs 18% to 20% but is, of course, at your discretion. You may tip the therapist in the room or upon check out at the front desk with cash, check or credit card. With parties of 3 or more a 20% gratuity will be added to the final bill.
Personal Belongings
Please leave all jewelry and valuable items at home. Effleurence is not responsible for lost or misplaced items.
Promotions
Specials cannot be used in combination with any other offer, promotions or third party gift certificates.
Health Conditions
Please advise us at the time of booking of any health conditions allergies, injuries or special needs which may affect your services. Please notify us of any sensitivities to aromas or ingredients when you schedule your appointment. Please note that the herb oils are not prepared from a nut environment.
Confirmation Emails
As a courtesy, we will try to reach out to you to confirm the appointment via e-mail or text message.
All our appointments are confirmed 1 hour prior to your appointment via e-mail and text messaging for your convenience. Please ensure that we have your current e-mail address on file. It remains your responsibility to remember your appointment dates and times to avoid late arrivals and missed appointments.
If you need to cancel or reschedule your session, you may do so through our Website or give us a call.
All appointments begin at the time of your arrival; once the paperwork is started. The start and end time of your session includes the time spent completing the intake forms, undressing, redressing and/or bathroom breaks. An early arrival, does not constitute a longer massage session with us.
| Day | Availability |
| --- | --- |
| Sunday | Not Available |
| Monday | 2:00PM - 8:30PM |
| Tuesday | Not Available |
| Wednesday | 2:00PM - 8:00PM |
| Thursday | By Appointment Only |
| Friday | 2:00PM - 8:30PM |
| Saturday | 9:30AM - 5:00PM |